Graduate ready to start a career in Biotechnology
The College of Natural Sciences at UT Austin has partnered with Austin Community College's Biotechnology Program, to enable students to simultaneously earn their bachelor's degree from UT and the ACC Biotechnology Certificate acquiring skills for biotechnology industry careers.
---
Overview of Biotechnology Pathway
Once admitted into the Biotechnology Program students enroll in specialized coursework offered through Austin Community College. Students will learn through advanced laboratory courses the skills for a career in biotechnology or post-graduate education and earn either a . Some of the topics include biomanufacturing, cell culture methods, biotech project management, as well as how the highly regulated biotechnology industry environment functions to assure quality and safe product manufacturing.
APPLICATION INFORMATION
Attend an information session!
                                                                                                                        Register to attend information session
here
                                                                                      Next Session TBA in Fall 2023 on Zoom
Submit an 
internal application
 and indicate by
email
your intent to register at ACC by April 14.
    Your name and EID will be sent to the UT registrar and then to ACC to facilitate the process.
You may register for ACC classes up to the day before classes start if seats are available.
 *If you are using financial aid be sure to complete the consortium agreement!
 View the Biotechnology Certificate Information/Courses
Step 1: Assess your eligibility
Be in second-year standing or beyond
Be in good academic standing
Step 2: SIGN UP to ATTEND A VIRTUAL INFORMATION SESSION 
Online Information Session RSVP system 
Step 3: Submit your application
Submit the internal application to be considered by UT Austin and Austin Community College Biotechnology faculty and program directors.
Step 4: Confirmation of your application and register at ACC
Admitted students will be contacted by UT/ACC program directors based available space in courses.  Be sure you have transportation to the site of your course (Round Rock or Eastview campus).
Step 5: START THE PROGRAM
Make a plan of what courses you will take and when. Be sure to share this with your regular academic advisor. 
Meet with ACC program directors to decide on courses and then register and pay for classes. Even though UT Austin is your home institution for financial aid you still will need to pay ACC directly. 
Submit a financial aid a consortium agreement form every semester you take a course(s) with ACC. 
FAQs about this program
Questions? Email biotechcert@cns.utexas.edu
---
Hear what UT Students that Participated in this Program have to say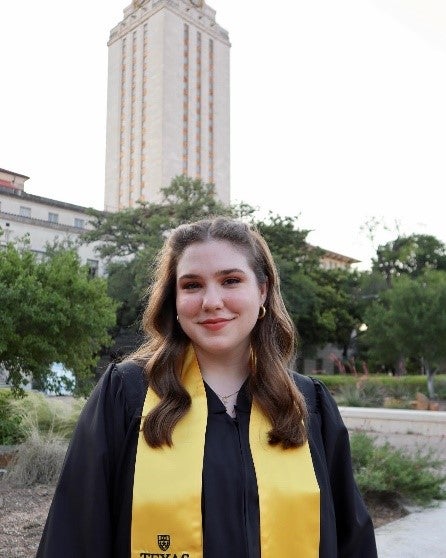 "I graduated with my B.S. in Biochemistry in May of 2022, and I took Biomanufacturing and Quality Assurance over the summer. I have accepted an offer at Molecular Templates as an Associate Scientist in the Research and Development department. I hope to use this position as a stepping stone for graduate school, where I want to pursue a Ph.D. in either gene therapy or biotherapeutics. 
From these courses, I have gained a better understanding of how biotech companies operate, what they look for in prospective employees, and most importantly, I have a marketable skill set that is sought out by these companies. I also learned about the various departments within a biotech company, and I figured out which departments I would like to seek employment in. I want to become a researcher, and the job position that I have accepted involves active research as part of the role, which I can use this experience to boost my graduate school applications in the future.  I cannot recommend the biotech program at ACC enough for UT students who want to expand their knowledge and technical skills in this field. If I had known about this program prior to my last semester of college, I definitely would have joined sooner!"  - Mackenzie Chapman
"Biotech is the future, plain and simple. As technology advances and researchers keep discovering new things, our ability to manipulate biological matter improves all the time. The demand for new and better ways of fighting disease, crops that can withstand harsher environmental conditions, and even wilder applications like gene editing are going up as well. The limit of what's possible is still being explored since the industry is so new. I'm beyond excited to be here relatively close to the start, where I have a chance to participate in and possibly even shape the evolution of the industry." Kyle Folkers, UT Biology, Class of 2023
---
Why Biotech
Biotechnology has the power to improve health, agriculture, the environment and improve industrial manufacturing processes. There are biotechnology hubs all across the US and in Austin alone there are over 200 life sciences companies, working to find solutions to infectious diseases and chronic conditions. Austin and Texas continues to attract biotechnology industries and you could have a career in healthcare, agriculture, environmental industry or regulatory bioscience. You can have a career in cutting-edge research, manufacturing, and many more aspects of biotechnology that you will discover along your educational journey.
The skills that you will learn can lead you to a career in biotechnology, or gain valuable skills and real-world experience for further post-graduate studies.
FAQs about this program
Questions? Email biotechcert@cns.utexas.edu