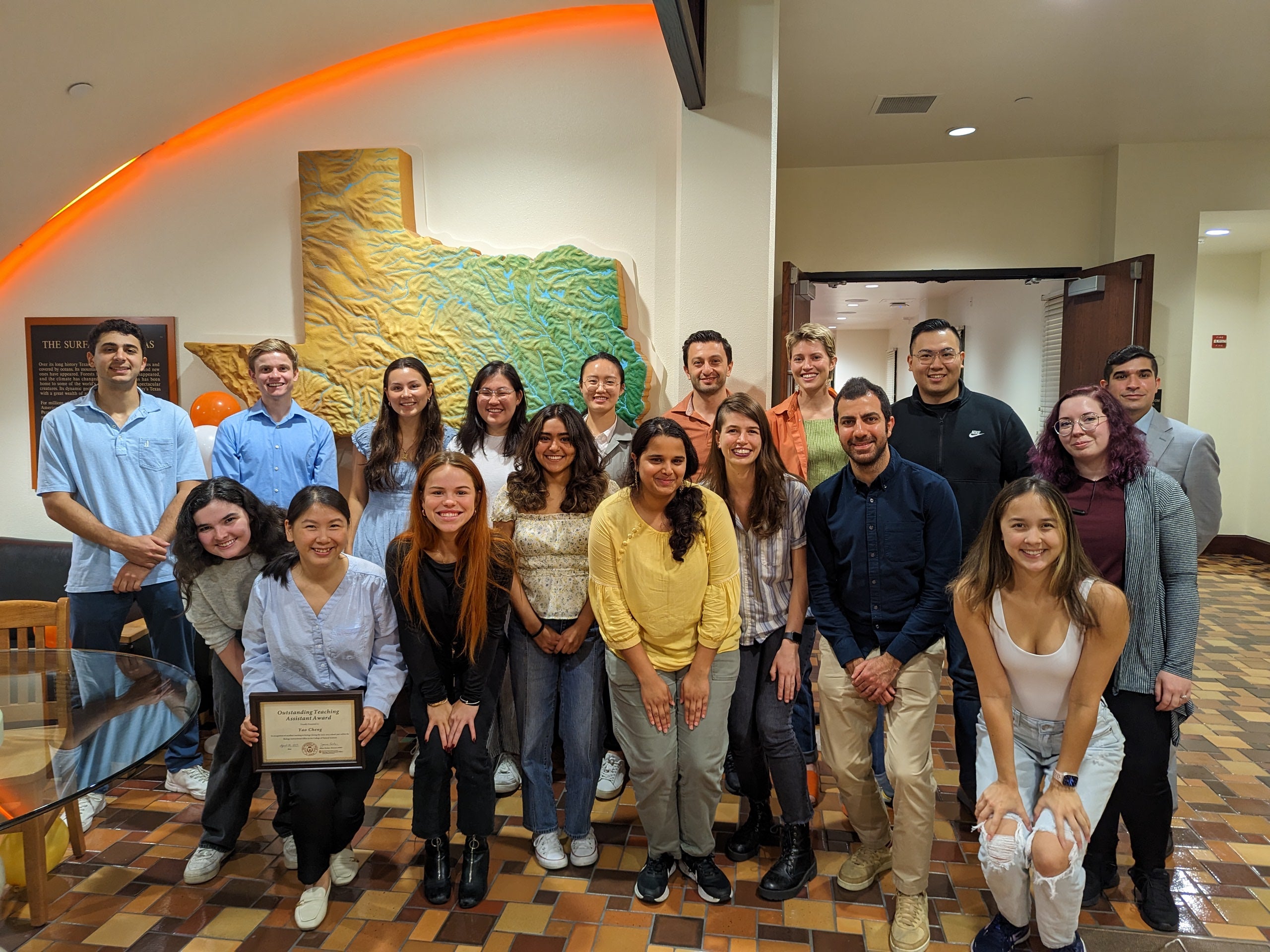 Congratulations to Our 2022-2023 Teaching Assistant Award Winners! 
On Wednesday, April 26th, 2023 the Biology Instructional Office announced the winners of the 22-22 BIO Outstanding Teaching Assistant award. Out of over 350 TA positions appointed during the past year, we had 14 TAs and 15 UGCAs nominated for this honor, but could choose only 8 to win the award. The list below includes all of the nominees. Winners are indicated by *.
We would like to thank these TAs & UGCAs, both the award winners and those nominated, for being outstanding teaching assistants. TAs are an integral part of the teaching experience and you have gone above and beyond what has been asked of you. Thank you!
2023 TA Award Nominees

Winners indicated by *

TA/Specialist NAME

NOMINATOR

COURSE

Maddie Brightbill
Inder Saxena
BIO 325
Elena Leander*
Ann Thijs
BIO 373
Esteban Cantu
Anita Latham
BIO 311C
Yao Cheng*
Katie Bruner
BIO 325L
Jiawei (Will) Han
Hans Hofmann
BIO 361T
Allyson Mangum
Marty Maas
BIO 206L
Katherine Ray
Adrian Keatinge-Clay
BCH 339J/CH 371
Soroosh Sadeh
David Cannatella, William Babler
BIO 446L
Viviana June
Inder Saxena
BIO 325
Ana Santiago*
Cynthia LaBrake
BCH 369
Remzi Satiroglu*
Jan Machart
BIO 165U
Sunishka Thakur
Inder Saxena
BIO 325
Tianyu Wang
Ian Cheng
BIO 365S
Jonathan Wing
Goheun Kim
BIO 325
Hassan Uz-Zaman
Howard Ochman
BIO 327G

UGCA NAME

NOMINATOR

COURSE

Shyon Ahmadi
Ian Cheng
BIO 365S
Ava Baechle
Ann Thijs
BIO 311D
Carter Burns
Ann Thijs
BIO 311D
Stephen Chen
Pratibha Saxena
BIO 326M
Gabriela De La O
Ann Thijs
BIO 311D
Eleanor Dowell*
Scott Stevens
BIO 344
Ashley Humphries*
Kristin Patterson
BIO 372C
Tammy Huynh*
Jonathan Partridge
BIO 311C/D, BIO 326R
Esther Ko
Ann Thijs
BIO 311D
Sanika Jossy
Goheun Kim
BIO 325
Zoe Martinez*
Ruth Buskirk
BIO 311C/D
Meagan Medina
Marty Maas
BIO 206L
Kelsi Rote
Ann Thijs
BIO 311D
Simran Shah
Pratibha Saxena
BIO 326M
Hannah Shreiner
Ann Thijs 
BIO 311D
See our past TA Award Winners & Nominees: